http://http://www.telegraph.co.uk/finance/businessclub/business-club-video/legal-sector-videos/12213217/gunnercooke.html
What is Gunnercooke? Very often I get asked this question by clients and contacts. They have heard that we are a diffent law firm to the standard, traditional and rigid law firms. However they do not know what makes the difference between us and other law firms.
See above an interesting video made by The Telegraph on our law firm Gunnercooke LLP which explains the ethos of the firm. It summarises quite well who we are, what we do and what we are aiming to achieve. You will note that our priority is client service. We believe that by focusing on clients, the rest (the financials, the success, the reputation) will follow eventually.
Interestingly, Gunnercooke LLP celebrated its annual symposium last week in Oxford where around 100 plus lawyers gathered to talk about the trajectory of the firm and listened to excellent speakers who talked about various subjects from business development to client quality service and even how to be happy! It was a good opportunity for lawyers from different departments to talk about what they are doing and the future of the legal profession.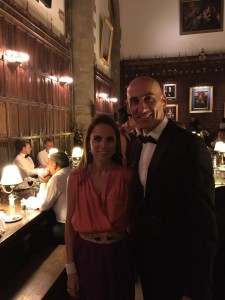 It was also positive for us, the Spanish lawyers at Gunnercooke, to discuss burning subjects of today with other lawyers such as Brexit, the economy and how this could affect our clients and their interest in Spain.
A wonderful and enriching experience that we are eager to repeat next year. Specially in such a historic (and magical!) place as the Oxford College!!
Antonio Guillén and Claudia Font, Spanish lawyers at Gunnercooke LLP, at the annual Gala at the Oxford College.