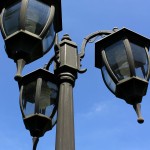 Well, it appears that Santander has changed its mind and will not be selling its portfolio of properties for a discounted price as it was unable to find suitable buyers. It appears that some of the offers were made by foreign investors who were pushing for discounts of up to 60% on the properties.
I think is a pity. This could have been the beginning of a new trend with affordable property prices.
At the same time, another Spanish Bank, BBVA, has said this week that property prices are expected to fall a further 10% in the next 2 years.
Any positive stories, anyone?
More news next week.
 Photograph by Heinz Teh Chee Siong/Dreamstime.com