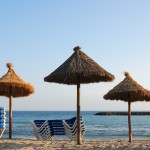 If you read internet forums or you are subscribed to internet news bulletins related to Spain, you would have probably come across many angry Britons who have been suddenly fined for renting their apartments in the Canary Islands without the necessary permissions.  In some cases, the fines are imposed because the property owner has let the property without a licence but in other cases the fines are imposed because the property has not been signed up with a management company.
Tourist Law 1995 of the Canary Islands states that all tourist accommodations in a specific development should be managed by one single company. This means that all the owners in a development who are planning to let their properties for short periods of time must agree to instruct the same management agent and inform the local authorities appropriately. The owners who forget to do the above will be deprived of the right to let their properties and will be fined with relevant amounts.
The authorities in the Canary Islands have appointed several inspectors who will be  checking developments, asking the agents for the required documents, looking at rental websites and sometimes even impersonating a potential tenant in order to catch illegal rentals. 
The main problem is that the amount of the fines can be disproportionate to the profit obtained. That is why if someone has been contacted and informed of a potential fine, it is worth to seek legal advice and see if it is possible to challenge the fine.  In those cases where the challenge is not possible, a reduction in the fine is always a possibility and negotiations with the Authorities can be advisable.
Photograph from www.dreamstime.com