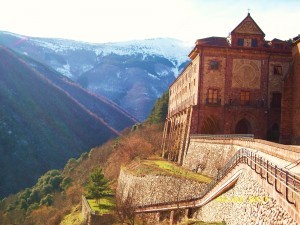 This article was written with Alejandro Yufera, lawyer from Barcelona, during his stay in our Manchester office.
Dear bloggers:
We have good news fromSpain. A buyer has recovered the deposit paid to a developer when he didn't get the mortgage.
This is the second resolution of the Civil First Instance Court of Logroño, La Rioja, that acquits a buyer from the lawsuit filed by the developer, cancelling the contract and sentencing the developer to return the deposit plus legal interest.
Pursuant to article 1,124 of the Spanish Civil Code when one of the contracting parties defaults, the other party can choose between two options: enforce the contract or terminate the contract with a compensation for damages.
The most common option, taken by the developers when a buyer defaults, was to terminate the contract so they could sell the house to another person. But nowadays, in the current economic climate the demand is nonexistent and therefore the developers are choosing the other option.
In this case the buyer signed a contract with the developer, he paid the deposit and after that he went to the bank to get a mortgage but the bank denied it. Because of the failure in getting a mortgage with the bank and the two-month delay in the delivery, he decided not completing on the purchase. The developer considered that it was a breach of the contract and decided to file a lawsuit.
The judgment says that the developer, as a professional in its sector, must know the difficulties of its activity and therefore has to anticipate the circumstances and has to make sure that he can comply with its obligations. In the point of view of the Judge of the Civil First Instance Court of Logroño, the developer breached the contract because it didn't take the necessary steps to grant the "mortgage subrogation option" when this option was clearly stipulated in the contract. The Court considers that the financing was indispensable to fulfil the contract and the developer failed to identify the potential problem.
Apart from these two judgments of the Civil First Instance Court of Logroño, the trend of the Spanish courts is to rule in favour of developers in this type of scenarios and force the buyer to complete the contract so they have to pay the rest of the money or lose the deposit. It is therefore an interesting progress towards a more ethical justice where all factors are taken into consideration.
Pictured above  Monasterio of Valvanera in La Rioja